It is possible to make a gluten free meal, or entertain a gluten free guest with just a little bit of planning and communication. Feeding someone who follows a gluten free diet can be frustrating. Many people have asked themselves, "How can I possibly make a meal without gluten? Just what is this gluten anyway?" 

What do you do when a potential dinner guest tells you that they are gluten free? Panic? Frantically research so you can make the best gluten free dish you can find on the internet?  Make your normal meal, but tell them it is gluten free because it is all in their head? By following a few tips, it is possible to entertain your gluten free friends and be sure no one gets sick.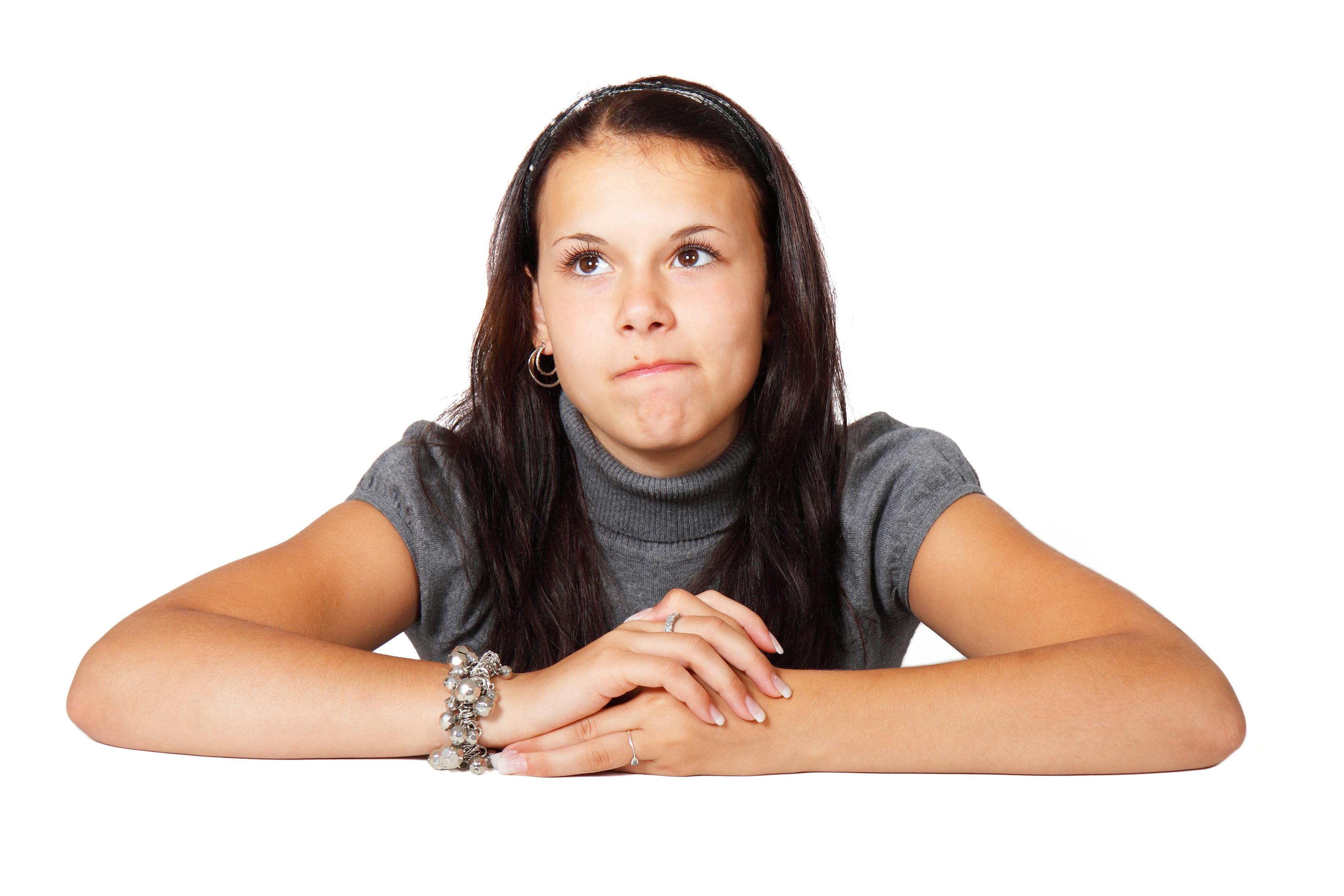 Find out how sensitive your gluten free guest is
While gluten free food has been a diet trend lately it is best not to assume your gluten-free guest eats gluten free as a preference. There are varying degrees of Gluten-free these days -and that doesn't make hosting a gluten free individual any easier.
Some people avoid gluten because they want to, some have a gluten sensitivity with mild, tolerable effects from consuming gluten, Other gluten free people feel like their entire being has been shaken, stirred, scrambled then dumped on the sidewalk after consuming gluten. The latter generally fall into the Celiac, or Non-Celicac Gluten Sensitivity categories.
Unfortunately all of these differences make it nearly impossible to make assumptions on how to feed a gluten free friend. What might be OK to feed your gluten-sensitive childhood best friend to eat, could cause trouble for another gluten-sensitive person at church, or may result in horrible digestive acrobatics for your celiac co-worker. Some people react to less than 20 parts per million, which is like 20 inches in 16 miles – not much at all! Especially since most people can cover about 36 inches in one step.
This brings us to rule number 2:
Look for Cross contamination
Since many gluten free people react to different amounts of gluten in their food, it is important not to assume something you've made is safe.
Do an honest assessment of how likely you are to cross contaminate your Guest. Cross contamination can make a celiac very sick. Remember that 20 cents inches in 16 miles?
Some things to consider when you are conducting your honest evaluation: Have you been baking recently? Flour can stay airborne for 72 hours.  This includes, mixes like pancakes, biscuits,  brownies and any other food that normally uses flour or might need to thicken.  
Does your family double dip when putting Mayo, butter, or peanut butter on bread or toast? If so, or you aren't sure, get a new container of that item, or advise your guest not to eat that particular dish.  Another thing to consider is how likely are any little ones in your house to cross contaminate food?  
Take pictures
Another incredibly helpful thing is to snap pictures of the labels from any processed foods, or canned goods that you are using.  This really does mean ANY.   I've seen gluten hiding in seasoning packets, shredded cheese, sauces, even hamburgers and sausage, and beverages. I have lost count of the number of times I've asked people what is in a food.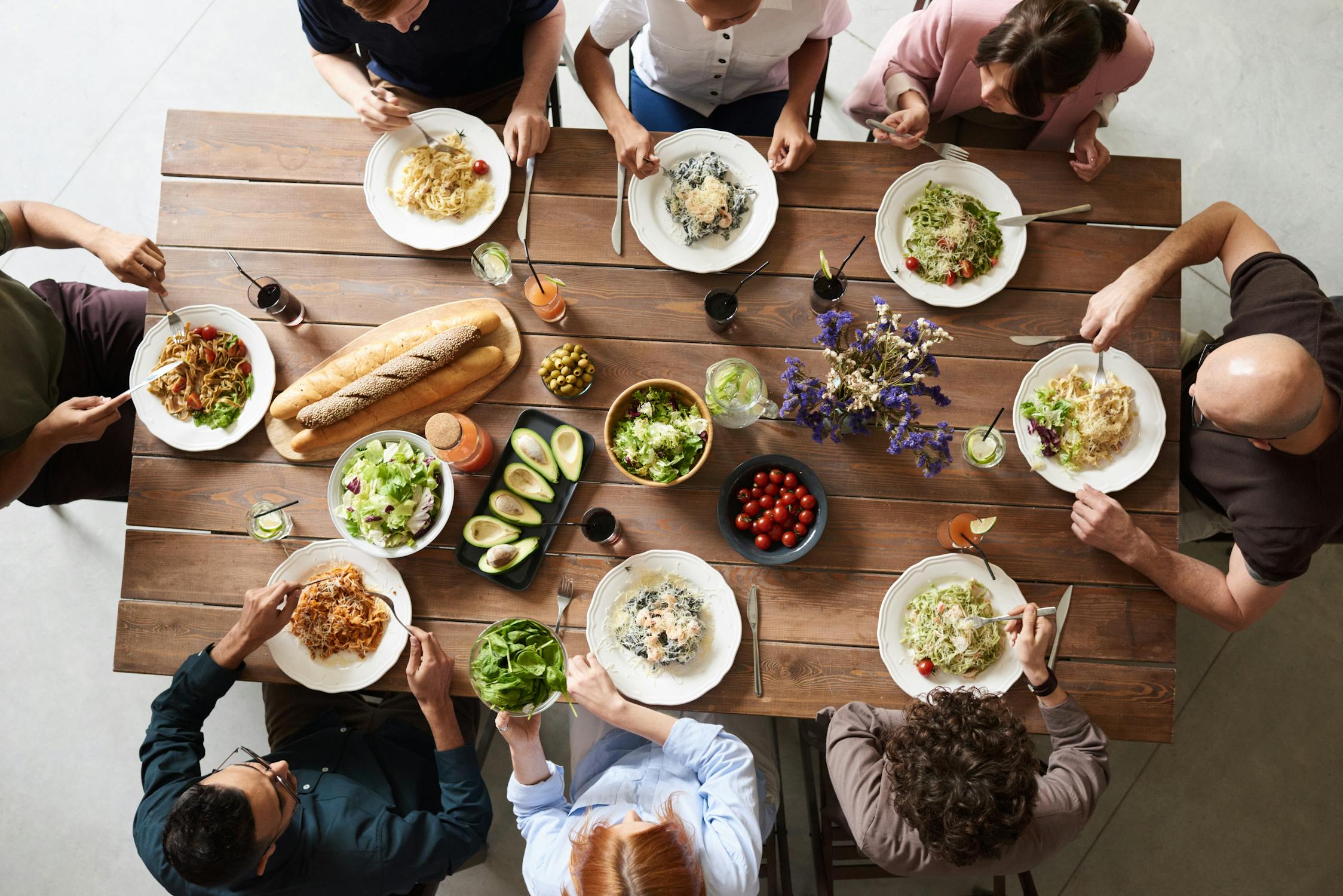 Many times I ask what brand of sauce or seasoning were used. This isn't because  I am especially brand loyal, I just know that certain brands are gluten free while others aren't.  Having  photos on hand can save the host from digging though a trash can or frantically trying to recall something.  Use your phone for a few quick pictures, then delete them after your dinner party.  
Ask for Suggestions From Your Gluten Free Visitor
It is may also be beneficial to ask your guest if they have any suggestions on what to make.  Your guests may know that a certain brand of gluten free pasta doesn't work well for a baked casserole. The gluten free guests may also be able to direct you to gluten free items which are a better value.  
Like I mentioned above gluten free people are not necessarily brand loyal. We do have to be aware of what we can and can't eat.  Asking for suggestions could save a great deal of time and agony in planning your meal. For example, you may be stumped looking for a gluten free soy sauce for a recipe. Your gluten free guest might suggest the LaChoy sitting next to your Kikoman at the grocery store as a very accessible option.
Serve the Gluten Free Food, or Guest, First
If you are serving a meal family style and there will be gluten on the table, plate the food for your gluten free guest ahead of time. Another options is allowing them to dish their own food before everyone else is served.  People often get excited about their meals and accidentally cross contaminate the food.  
Think about all the work that would go into making a gluten free sauce. Then imagine an eager guest scooping out the sauce and dragging the spoon across a plate of gluten-filled pasta then going back for a second scoop. I've watched that scenario play out many times by family members who know better, but got a bit eager to make the perfect plate of pasta.
Serving gluten free food first is also very important when setting up a buffet. An alternate option might be to pre-plate the food.  Some people set aside smaller portions of the gluten free items for their gluten free guest to serve themselves.  Trust me, you are not singling out someone who has issues with gluten. Most are happy that a host or hostess took time to communicate with them and not make assumptions.   Gluten free guests will be grateful that you considered their needs and took extra precautions on their behalf. 

I was at a competition with my horses when a few other competitors went out of their way to make gluten free food so I could be included.   They even let me know early in the day, so I didn't make other plans that evening.  I know these people don't have to  – but they care enough about me to make that kind of effort. 
I can't eat that – GF guests may say no
Eating cross contaminated food can play out like a horror film for a hungry celiac. We know just how rotten gluten will make us feel when we are accidentally cross contaminated.
 I was at an event recently where I was told that the Taco bar is gluten free.  People were serving themselves, and making their tacos… with flour tortillas.  I watched in horror as someone would rub serving utensils across the tortilla, then go back for more.  This scene played out again and again with just about every item on the buffet. Even WHILE the catering manager was telling me their food was safe. Not really.  Not really.  Sometimes a Celiac just has to say, "Nope.  I can't eat that!"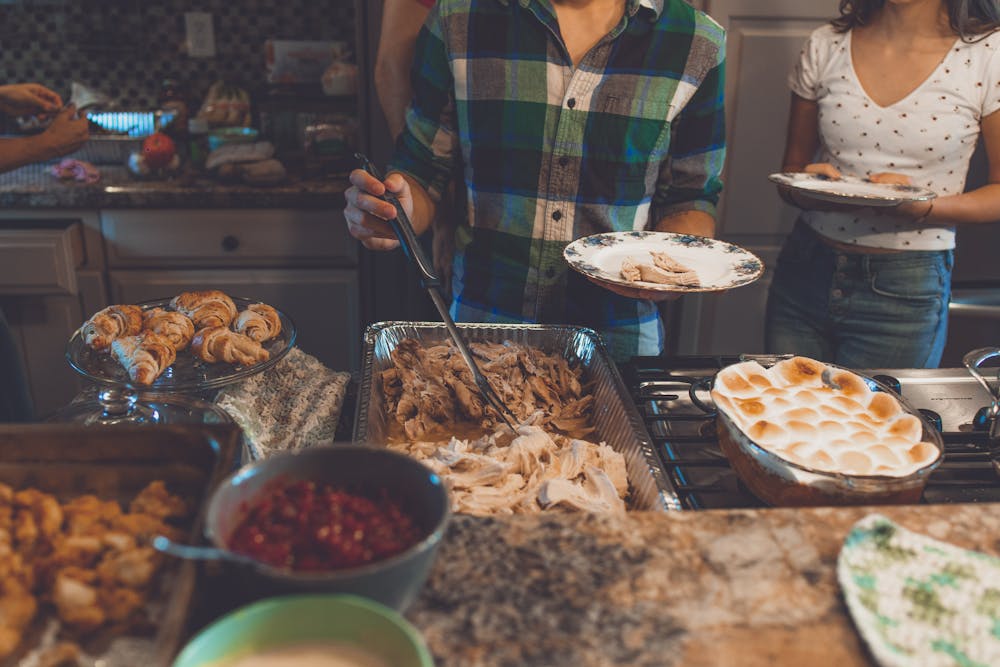 Don't be offended
It is very important to not be offended if your guest doesn't want to eat the meal you prepared. I've had to say no to foods that my mother has created for me. She knows almost as much about gluten free cooking as I do, but I've learned to watch for red flags.  Sometimes mistakes happen. It is possible to forget to read a label on a new brand of frozen vegetables.  
 Even though I often say no, part of me that is incredibly upset about not being able to eat that delicious looking food.  Most people who eat gluten free would love to try the food that has been offered. However pain and illness are a great teacher. Many gluten free people have learned from experience to avoid any food that presents a red flag. 
Suggest your GF Guest bring their own meal
Safely feeding your gluten free friends and family can involve a great deal of work. Suggest your gluten free friend bring their own food if can't reasonably avoid cross contamination in your kitchen. Providing their own food is helpful you are putting together a last minute gathering too.
Many gluten free people are used to bringing their own food to gatherings. Bringing our own food is always a safe option.  No one likes to be hungry and have to watch others eat a delicious meal.  I don't want to be hungry – because then I become a grump.
I've even cooked my own steak dinner, tailgating style, at a relative's wedding reception.  Answering a few questions like, "Why are you eating something different?"  is much easier than dealing with being sick for several weeks. 
I hope this helps you accommodate get togethers with the gluten free people in your life.   Somewhere along the line we quit thinking of rules and just offered advice. Remember just because someone is gluten free doesn't mean they should be excluded from social events revolving around food.   With a little bit of preparation, or some humility, it is possible for everyone to enjoy each others company.